Our award winning 'Chalet Saskia' is FOR SALE and it could be yours!
I am writing to introduce you to a piece of heaven. This 'hidden gem,' and 'jewel of the alps' is called Vaujany. Within Vaujany lies Chalet Saskia, an incredible 10 en-suite bedroom, south facing chalet (with Spa) that is looking to find new owners.
If you are thinking about purchasing a large ski chalet (or have an inkling you know someone that does), then look no further. This is a very rare and special find. It provides ample space for all your family and friends to gather at multiple times a year in a truly stunning location, plus a wealth of activities, events and adventures at your fingertips. Read on to gain an insight into what this 'best kept ski-cret' has to offer.
Vaujany itself
An authentic village, full of Gaelic charm. Perched at an altitude of 1,250m facing the superb Massif des Grandes Rousses, Vaujany has all the charm and prestige of an authentic mountain village. There are small markets every week plus a fair number of quirky outlets selling their own local speciality produce such as cheese, sweets, chocolates, breads, jams, meats, crepes, waffles etc.
Combining tradition with modernity, Vaujany offers holidaymakers top skiing, skating, cycling, and hiking facilities in the heart of magnificent landscapes, in a charming and unspoilt natural setting. Vaujany has managed to preserve its old-world charm while offering state-of-the-art facilities. Stroll through its narrow streets and discover the fountains, one of the farms, or its authentic bell tower.
The village is a small place with a big secret. Thanks to an agreement with the EDF made back in 1986 the village receives €3 million in funding every year. This money is poured into the infrastructure and facilities as often as possible with new ideas to invest annually. Sports facilities, new lifts, new roads etc. Vaujany now has a high-tech lift system from the village in three directions. Due to this the village is continuously growing (much like Meribel in the 90's).
The local mountain range is called Les Grandes Rousses due to it being illuminated all in red during sunsets. The whole mountain range looks spectacular and unimaginably beautiful when this occurs, it's a true wonder.
You can read plenty more information at the village site. It may be small but Vaujany packs a punch.
The Oisans (valley)
Vaujany is one of the twenty municipalities that form the canton of Oisans in the north of the department of Isère, near the border with Savoie.
This is one of the great valleys in the whole of the French Alps. Alpe d'Huez, Les Deux Alps, La Grave (off piste mecca of Europe), Le Alpe de Grande Serre and a couple of other small resorts make up the ski areas associated with the valley.
Great access from airports
70 minutes from Grenoble
100 mins from Lyon
110 mins from Chambery
150 mins from Geneva
For more details see here, including bus options, taxis, trains, hire car etc.
Grenoble city and train station are only 60 minutes away, should you want to travel carbon aware. The journey from Paris takes less than 6 hours so put your feet up and relax with some games.
Chalet Saskia
Built and owned by my father Nigel Purkhardt since 2000. Our company Ski Peak historically rented this out for €1,227pppw for catered accommodation only. It is now rented out self-catered for between €4,000 - €16,000 a week (time of year dependent).
The chalet has 10 en-suite bedrooms on the first and second floor, all with south facing balconies, being able to accommodate up to 26 people in twin rooms, triples, doubles and doubles + single.
On the ground floor there is a high-ceilinged atrium, with reception as you walk in. On the right is a large lounge and on the left, a large lounge/dining room. In-between these two lie the professionally quipped kitchen and large terrace area.
The lower ground floor house the TV, games room & Spa, including bespoke shower area and sauna plus a delightful Hot tub outside on the lower terrace for star gazing. The garden has outdoor furniture and fire pits for those fun evenings all wrapped up. There is also a two bedroom staff apartment, multiple storage rooms and a huge garage, which have a lot of potential for refurbishment (swimming pool, gym etc).
It's hard to come by large chalets like this, in-fact I believe it to be the largest chalet in the whole of the Alpe d'Huez and potentially the Oisans area. Due to the size of the property it's great for growing families and hosting events. This is somewhere where you could do annual corporate outings if you are that way inclined. There are multiple areas and spaces around the property to all come together to eat/communicate or similarly, you can always find somewhere to get some space.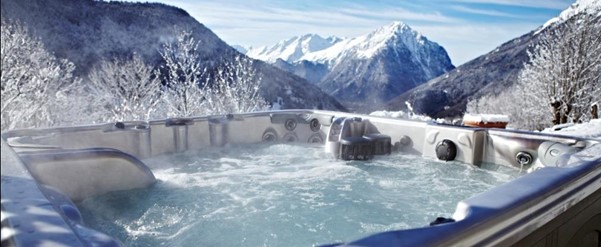 There are third parties that can offer catering services and other frills for these types of groups for when you are there, so don't think you have to fend for yourselves and cater for 26 people.
There are 6 private parking bays on the roadside plus enough for 5 more on the chalet drive. You can view more information such as images, floor plans and scenic shots etc on our site.
Videos
Our video of the interior back in 2017. There have been some improvements since.
Showing the views and distance from the leisure centre and lift station (200m)
Skiing area
This is as good as it gets and luckily, without the price tag!
The winter season starts from the beginning of December and due to it being so high at 3300m runs all the way to the end of April. Our local area of Montfrais is low but due to Vaujany having buckets of cash invested in snow making, plus the fortune of having North facing slopes, it keeps the snow all the way to the end of the season. The full resort is called Alpe d'Huez which has something for everyone. It's a resort for anyone who enjoys being outside and wants to engage their adventurous side.
Why is it good? Well, it won BEST European ski resort in 2017 & 2019 and has been top 10 every year. The categories covered every aspect:
How family friendly is the ski area and resort
What is the access to resorts like?
How good is the lift system?
How good is the skiing, is there something for everyone?
What kind of foods are on offer, well priced, nice mountain/resort restaurants?
Quality of après scene and night life
To win this accolade once is brilliant, but to win it again and be nominated every year is incredible.
Some key points to mention
250kms of pistes
1100m altitude – 3300m altitude (including 4 different 2000m descents in one hit)
La Sarenne (longest black run in Europe at 17km)
Le Tunnel (Top 10 hardest pistes in the world)
Folie Deuce – Well known apres bar
Two snowparks, ski cross park, family friendly areas (Les Bergers, Marcels Farm)
A host of international events throughout the resorts
300 sunshine days a year
Some of the best local off piste in the world (La Grave is around the corner and we have the same mountains)
You can read through a whole wealth of information and glorious statistics here
Entertainment
Plenty of activities available and entertainment on offer in the village and surrounding areas, for all palates, ages and of course those non-skiers:
Cinema
Hiking
Snowmobiling
Husky rides
Ice climbing
Libraries
Bars
Restaurants
Brewery tour
Goats farm tour and cheese tasting
More info can be found here.
It's worth mentioning that from the Vaujany lift station there are 6 mountain restaurants within easy reach via one lift or another. Think about it; heading up to 'La Grange' the mountain pizzeria (a seven minute lift) and sipping on a cold beer or Provence rose, looking over the Belldonne mountain range and down into the low valley below and catching up with the skiers about their amazing morning, or hilarious falls on the mountain.
Leisure centre
There are two leisure centres in the village. Fortunately, they are both located 200m away from Chalet Saskia and are next to the kids 'Garderie'. It houses the following facilities:
Indoor swimming pool with large slide
Play areas and indoor waterfalls
Floatation devices and weights
Terrace for sunbathing
Spa area with hot tubs, steam room, sauna, massage therapies
Gym
Sports arena (also used for events)
International sized ice hockey stadium
Restaurant & Bar Le Stou
Bowling
For more details on prices etc, see our website.
Great for families
Vaujany has an incredibly well priced crèche and kids garderie with brand new facilities. Not only is it perfect for babies and young children but due to all the facilities, leisure centres and restaurants close by, it's great for parents too. If your family is like ours then food and drink is important. Vaujany is fortunate to have the perfect blend of bars and restaurants, all within very easy walking distance of the property.
There are loads of nice places for families to chill, on and off the mountain. For more information on why the place is perfect for family ski holidays, read more here.
Ski school
Not just for kids of course but perfectly set up for them. Classes meet at the Vaujany lift station, a short 200m flat walk away from the Chalet, followed by a 1 minute funicular lift to the station. Kids meet up with their group and then are taken of for the days learning and fun. There are around 30 local instructors based in this ESF outfit and at least half of them have been there for 30 years and taught me to ski! Having dealt with our English clients for over 30 years, there are plenty of English speakers to ensure advancement in technique and enjoyment for all involved.

The ski school have a newly renovated, fully enclosed 'Jardin de Neige' at Montfrais, the local ski area, which is blessed by gentle green slopes and some steeper blues, perfect to start out with (for all ages). There is also a new chairlift, taking just seven minutes to go from 1600m to 2100m and a good number of kilometres under its belt. This has transformed the area even further as we all get double the piste time and half the lift time.
Nightlife
As mentioned with some previous links, it's not great if you are 20 year old wanting to cut loose at a different venue every night but there are 5 drinking bars that have a good mix of tourists and locals and live music. Not to mention the 3 hotels you can drink at, including the new HOTEL V with cocktail bar and fancy restaurant. There is also 1 club in resort for those late nights if your body's still popping when the bars close.
The Folie Deuce have been in Alpe d'Huez for some time, providing a party atmosphere from 14:00 onwards. Think live DJ's playing dance music, accompanied by dancers and saxophonists. There are also a few other creative places like this on the mountain now such as Bar Signal. It's become the norm since 'Tomorrowland Winter' claimed the resort as it's winter base back in 2019, bringing 25,000 people in March. It is happening again in 2022
What the papers say
Throughout the years, Vaujany and Ski Peak, especially Chalet Saskia have been a strong feature in the English winter press:
If you fancy a bit of light reading, feel free to see our press page, with easy links to all the live articles.
Videos, photos, social
Whilst there has not been much action over the past couple of years before the pandemic, we posted multiple times a week. At a glance, this is what the area can offer:
Facebook
Instagram
Miscellaneous
If this was in Meribel it would be worth double or triple depending on location.
I know at least 6 families personally that we have brought to Vaujany, who have since invested and bought property in the village. They were mostly young families at the time and are still very much returning every year to enjoy the local fruits on offer. There are plenty more families that have bought property since enjoying a Ski Peak holiday. We introduced them to this little gem and it feels very fitting to introduce the new owners of Chalet Saskia ourselves.
I created an email course a few years ago which sits on our home page as a pop up. If you want more information the please take a look and subscribe.
Summer
There is a multitude of activities and events on offer throughout the summer months. It's bike heaven on and off the road, with many MTB routes through woods and fields, plus world famous cycling cols such as the Col de Croix de Fer, the Galibier, Alpe d'Huez notorious 21 hairpins (the final of many a Tour de France mountain stage). It also borders the Parc Des Ecrins, perfect for mountaineering and generally being awe-struck by the magnificent surrounding mountains.
During the summer there are also kids camps all week, every week. They do half day trips and day trips canoeing, abseiling, swimming, hiking, 'GoApe', climbing, farm adventures etc, to name a few!
We actually have a sister site for our summer holidays called Peak Adventures.
Why are we selling
To put it simply, my father is retiring. He has invested the last 33 years into Ski Peak and now wants to travel the world with my mother in an uncomplicated fashion. I have put 8 years into Ski Peak and am ready for some new challenges.
Saskia could of course do with some modernising in parts. However, the spa is new (built just four years ago), as is wall panelling, the fancy display shelves and the rooms/bathrooms are all in good condition. We have nearly sold every available week this coming winter. Our customers are new and old, proving that the chalet and location are a well worth visit. As it is a fully functioning holiday rental, it is 'move in ready'.
We would love to sell it to a family that has a connection to us somehow. We have several other chalets in the area and return regularly for ski holidays and summer holiday alike; its great fun bumping into each other.
We would love to get you out there to show you around the property and introduce you to all our partners. Some are my dear friends who I have grown up with, knowing them all my life… it's a very special community. No matter what your pre-conceptions, Vaujany will surpass all expectations.
Price
We are selling the property for €3 million Euros.
It was on the market last year but given COVID the timing was off. We have now taken it off the market with the view to selling it privately.
If we are unable to secure a sale with you or other private interest by the end of March, we are planning on using our local contractors to split the chalet into two units and sell each for €1.7m. This will commence at the start of May 2022.
If you are interested or know of any persons who might be, please email info@skipeak.net. We very much look forward to opening a dialogue with any interested parties.